"Yut, Chock, Yut, Yaek, Ying!" IFMA's HERStory about Female Referees
Women's participation in muaythai 40 years ago was very much unthinkable especially in the motherland of Thailand.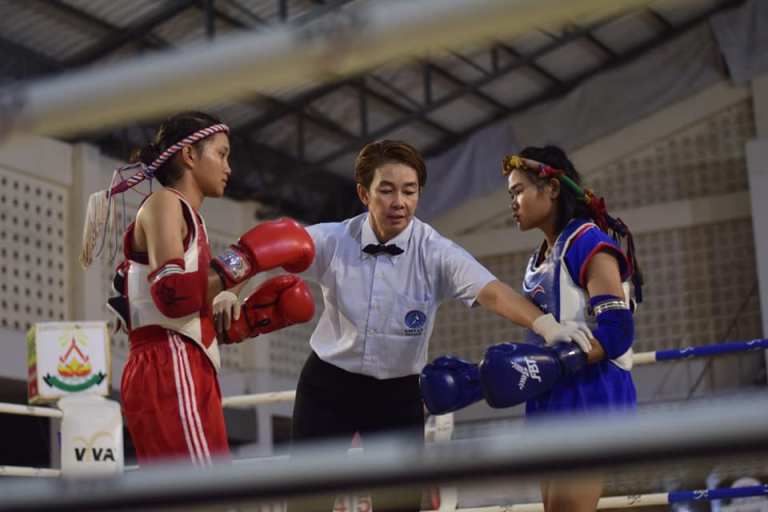 In the early 90's, IFMA and the WMC stood up for gender equality, breaking the history marked by division and discrimination and started a journey with major accomplishments for all stakeholders in the muaythai family and important steps towards the empowerment of women, girls and gender equality.
Breaking social barriers and allowing, encouraging and promoting female muaythai athletes and coaches, the next step was to ensure female officiating. It was in 1998 that the WMC and IFMA staged the first international female referee course to officiate both IFMA and WMC events. The first referee course for women was jointly held between the two organisations, IFMA and WMC, at the Olympic Committee of Thailand. This was a joint project between General Chetta Thanajaro who was both the President of WMC and the National Olympic Committee, and General Vorayudh Meesommon who was President of IFMA and the Amateur Association of Thailand, at the time. Thailand's Ying Khayow, Chayanuch Sri and Kung Nichapond were amongst the first women to officiate at the 2002 World Championships where female athletes first took part in the IFMA World Championship's official programme and are still officiating as ITOs at the IFMA World Championships for nearly 20 years later.
Throughout Thailand in 1997 It was largely unthinkable that a woman would step through the ropes as a competitor let alone as a referee. However, this is exactly what happened when the weekly Muay Ying Programme began at Rangsit Stadium. This inauguration started a ripple effect that moved from Rangsit to other parts of Thailand, and on to the IFMA World Championships. The next step was introducing the need for female referees and ITOs (International Technical Official) to and in the National Federations, the steady increase in quality experienced female referees has gone from strength to strength and will continue to do so into the future.
Other IFMA female referees that lead the way included Natasha Kogan, Katarina Perkkio, Julia Pacheco Atunes, Luanda Smith, Cy Diong, and Mardel Vasquez Claro – to name but a few. These women worked alongside their male counterparts and rose through the ranks to be appointed IFMA ITO's. Today, the IFMA ITO's stand together officiating bout after bout at prestigious events such as WMC World Title fights, the World Games, the Indoor Asian Games and the SEA Games. The current IFMA Executive Board has a female representing the Referee and Judges Commission, Abby Nelson, from Australia. The world of sport has praised IFMA and WMC for their work towards gender equality. IFMA's female referees come from all parts of the world and are representative of a variety of cultures because the IFMA referees uniform allows for inclusion regardless of race, gender or faith. Referees from the Islamic Republic of Iran, Malaysia and Afghanistan referee alongside women from non-islamic countries.
Many other organisations simply hold a brief weekend course and qualify a person to become an international referee without the necessary experience to officiate at a high level such as a "world championship". This not only insulting to the qualified and experienced female referees and ITO's of IFMA but it is dangerous for athletes and irresponsible of these other organisations. There must be a high standard and a proper advancement programme starting at the grass roots level and building its way up through local, regional and national qualifications as the referee, male or female, builds their experience and skills. There needs to be a career pathway from national to international to becoming a recognised ITO. There must be a pathway from the bottom to the top and if mistakes are made the referee must be held accountable and more training must be undertaken before the referee is cleared to officiate at their recognised level again. This also means there is a pathway back down for the referees to ensure they stay fit and sharp and consistent in the ring and when judging. Athletes safety and careers depend upon these individuals and they must be held up to the highest possible standards. This is how IFMA assesses their officials, male and female, and their current good practice is another reasons why IFMA is recognised by the Olympic movement as the international organisation in control of the sport of muaythai.