Abu Dhabi Reveals the Names of the Asian Champions 2019
The Asian Muaythai Championships 2019 concluded in Abu Dhabi and marked the end of the Muaythai year for IFMA athletes. It was a true highlight in the IFMA calendar and the Asian Champions of 2019 demonstrated the highest level of Muaythai to bring their countries to the top of the podium and let the national anthems sound live on the Olympic Channel.
Athletes from Vietnam, India, Philippines, Lebanon and Iraq made it to the final in the light weight division challenging representatives of the motherland of the sport Thailand but this time Thailand triumphed with the overall result of 9 gold medals of the Asian Muaythai Championships.
The host of the upcoming FISU University World Championships and World Combat Games in Kazakhstan gained a great results before they invite the university athletes to Our Sultan. Almaz Sarsembekov (57kg), Yerkanat Ospan (60kg) and Abil Galiev (63,5 kg) are bringing fame back to Kazakhstan to inspire their team mates to get ready for their home battles.

Iran was the biggest delegation of the event and the quantity truly resulted in great quality as 5 gold medals will travel to Tehran. Nadiya Etemad Moghaddam (63,5kg), Ayoob Saki (75kg), Ali Takaloo (86kg) , Hamid Reza Kordabadi (91kg), MohammadReza PoorShirmohammad (91+).
The hosts of the event, the team of the United Arab Emirates truly showed a great progress winning 2 gold medals of Asia. Competing in the competitive divisions just last year UAE made a remarkable progress and today Ilyass Hbibali (81kg) and Amine El Moatassime (71kg) made the entire Muaythai community proud to hear their national anthem at their home Asian Muaythai Championships.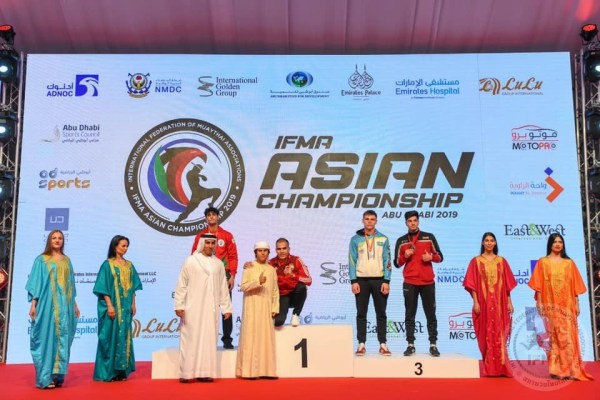 Congratulations to all the winners and Abu Dhabi is waiting for teams from all over the world for the World Muaythai Championships 2020.