Andy Thomson Lanna Muay Thai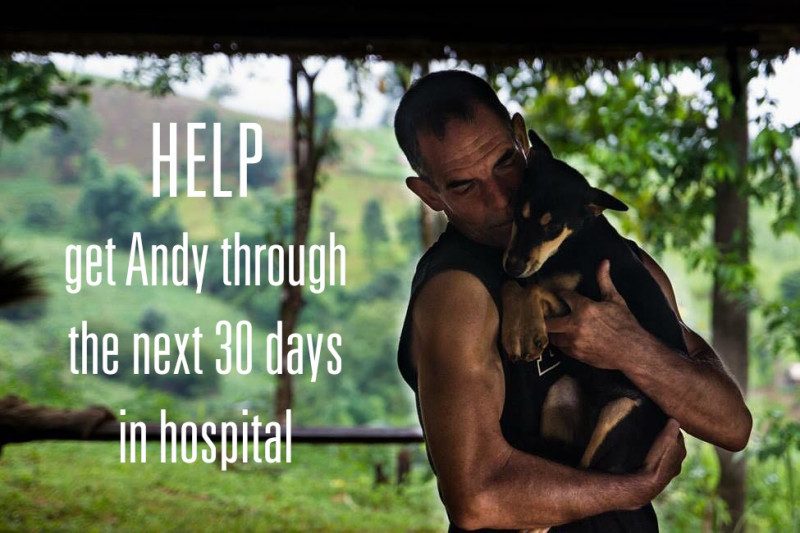 A very good and decent gentleman and friend to many, Andy Thomson, is in hospital in Thailand with a very serious illness.  He was in a coma for a week but has been in and out of a coma over the last few days (See latest news below) 
Andy was head trainer and previous owner of Lanna Muay Thai in Chiang Mai and Doi Modt in Northern Thailand for over two decades. He recently set up a dog sanctuary – one of his big passions.
Andy's medical expenses and financial requirements during his stay in hospital are ongoing. Without specialist care and finances to cover medical costs his recovery may be in jeopardy. At this stage we have no way of knowing what will happen however we would like to give our friend Andy the best medical care that is availabe to him.
LATEST UPDATE ON ANDY THOMSON
Andy Thomson has been diagnosed with Guillain–Barré Syndrome. You can read about it here:
https://en.wikipedia.org/wiki/Guillain–Barré_syndrome
It's an autoimmune disorder where Andy's immune system is attacking his own body's nerve cells. It seems that Andy's initial infection has been treated, but that infection led to the syndrome. The prognosis is good in that most people diagnosed with Guillain-Barré eventually recover. However, it takes time and rehab.
Andy has had intravenous immunoglobulin (IVIG) medication which was not available in Thailand and had to be imported at an extra cost. In addition to this, Andy will need a tracheostomy, which is an operation where a hole is made in his throat, to facilitate his breathing. This push is for paying for the ventilator, the tracheotomy and his care as he comes out of the coma.
The cost of his treatment is very high – averaging over 10,000 baht a day (€260+). The IVIG treatment alone already cost 222,390 baht (€5,719) so his medical bills are mounting daily. If we don't reach our goal the treatment will cease.  And yet Andy will be in hospital for another month.
Let's give this one big push to ensure all of Andy's medical bills are covered – Please donate what you can for Andy, we are already over half way there………..let's hit this target together
For this reason, can I please ask everyone to share the GoFundMe link and if you can manage to spare any money, please donate https://www.gofundme.com/Andythomsonlannamuaythai
Or if you are in Thailand, Kim Loudon can also give you Andy's bank to directly deposit money into. Add him on facebook.
_____________________________________________________
Finances
We'd like to say a big New Years thank you to the everyone who so far helped raise over €10,500 of our €18,000 goal for Andy's medical expenses – we're almost there.
We need to raise just €7,500 for the next 30 days to get Andy out of hospital. We are appealling to anyone in both the Muay Thai community and dog sanctuary communities to help out.
You may or may not know Andy and he may or may not have been your trainer however your support will help someone who has given his life to training and assisting people both inside and outside the ring….  and helped a lot of doggys.
Call it a real life and much needed  Wai Khru – a donation of any amount is greatly appreciated.
Myself: My name is Peter McCarthy (Ireland) and a friend of Andy's for almost twenty years. I trained at Lanna while we shot a documentary there and Andy helped us out considerably during the shoot. Anyone who knows Andy knows he's a brilliant guy and there are many of us who will do anything for him.
The gofundme account uses Stripe which requires a bank account however they don't allow Thai bank accounts. I've set up a dedicated bank account here in Ireland which I will use to transfer funds to Kim Laudon who has been paying Andy's bills from his savings. Kim Laudon, a friend of Andy's on the ground in Chiang Mai. We will ensure that all donations are accounted for and post accounts on the update page.
Kim Laudon has also been providing much of the medical information:
https://www.facebook.com/kim.loudon?fref=ts
Here is my own facebook account so you know I'm real. https://www.facebook.com/peterjmccarthy

Andy's facebook page where Tukkata is with Andy at the hospital and is posting to his facebook page so you will get updates there. (you might need to be a facebook friend to see these).
https://www.facebook.com/andy.thomson.5015983
Shaun Boland will also provide updates.
https://www.facebook.com/shaun.boland.18?fref=ufi
I'll do my best to provide updates however Andy's personal facebook page  through Kim Laudon and Tukkata will probably have more up to date news as I am mainly running the gofundit page.
Thanks again, your donation is much appreciated!