Birmingham comes to the World Expo
The World Expo in Dubai was a very special occasion as the official qualifier for the World Games 2020. Over 200,000 visitors came on that day to the World Expo and a special muaythai stadium was built with the World Games logo with the Road to Birmingham logo everywhere. The event was televised to over 80 countries with record numbers.
There were 2 divisions, 63.5KG and 67KG with fighters from around the world trying to qualify.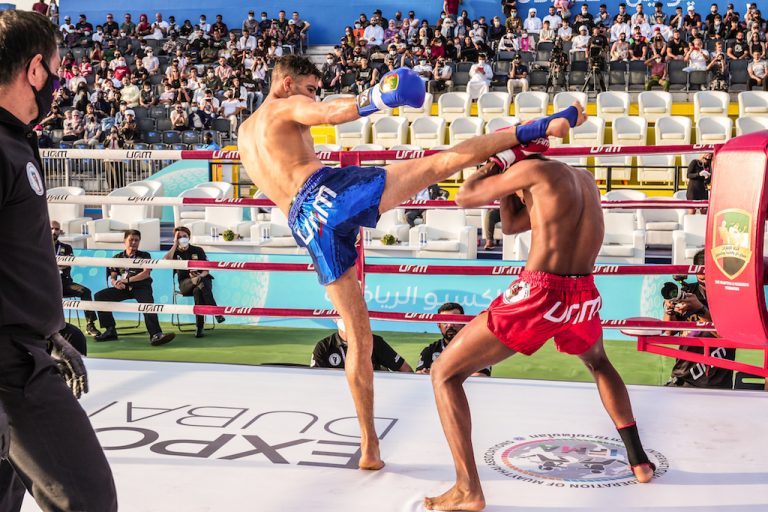 The semi-final match in the 63.5 division was Duddley Mootoosamy from Mauritius versus Nouredine Samir from UAE. It was the fight of Africa versus Asia and the Mauritian fighter nearly upset the capacity home crowd but the UAE athlete Nouredine finished the contest strong booking his place in the final.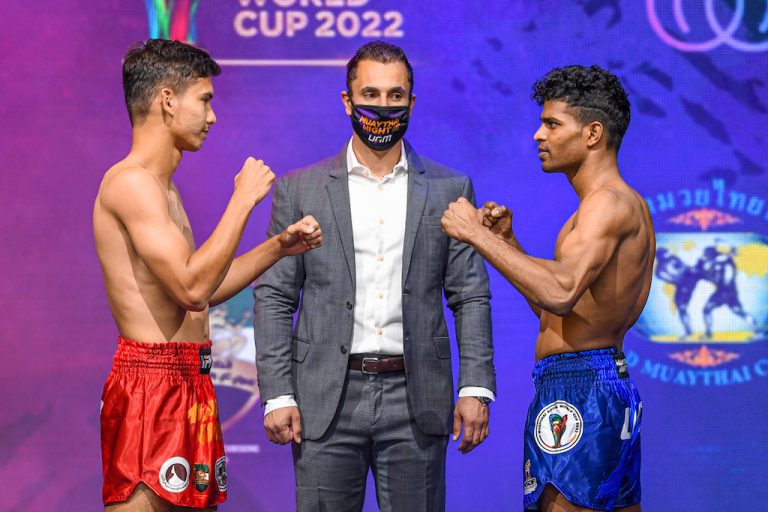 In the second contest,  it was Europe versus Asia with Ajithjenosan Sellathurai from Germany taking on Elias Bin Zulfikar from Malaysia, this was the bout of the survival of the fittest with two warriors giving it their all. It was the Malaysian athlete who made it to the final.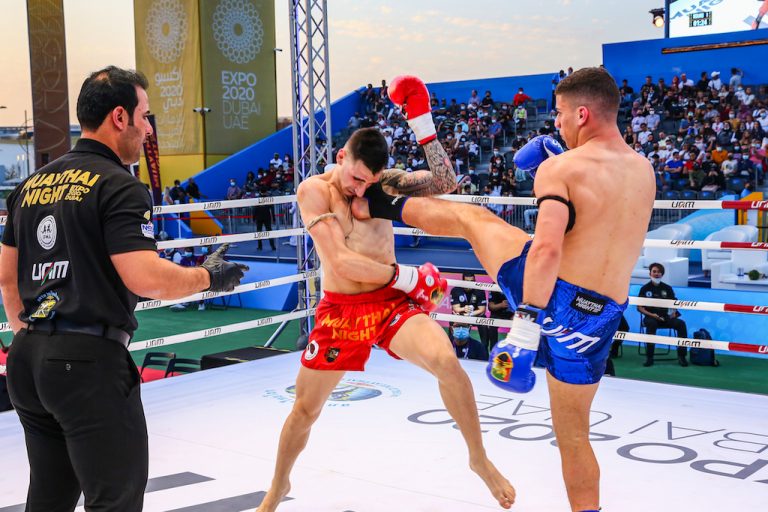 In the second semi-final, it was Matteo Cabras from Italy versus Mohammed Mardi from UAE with the home crowd going crazy when UAE won the contest booking their final spot.
The second bout of this super 4 semi-final saw Europe versus Asia with Ahmet Ertekin from Turkey and Nurtaza Jumakhanov from Kazakhstan. This contest saw the full arsenal of the 8 limbs and in the end, Kazakhstan took the point decision.
The crowd was in for a treat with 2 UAE fighters in the final. It came down to the 63.5KG final between Nouredine Samir from UAE and  Elias Bin Zulfikar from Malaysia, an all Asian final with 3 rounds of giving it all to book their ticket to Birmingham, Alabama. It was Nouredine from UAE who came out on top and booked his way to Birmingham with so much pride of the United Arab Emirates.
The 67kg final saw Nurtaza Jumakhanov from Kazakhstan taking on Mohammed Mardi from UAE in a match worthy of a World Games final but only one of the two warriors could book their place and in the end, it comes down to the scoresheet and it was Mohammed from UAE that took the win.
Congratulations to all the athletes that participated in the UAE Muaythai Federation and IFMA event and it was a proud day for the athletes to be the first competing at the World Expo and booking their well-deserved place in the World Games 2022.
Birmingham here we come!