Boxing Bar VI, Italy
Saturday the 15th June in the quaint city of Pistoian in the Tuscany region of Italy saw an event of muaythai action as Boxing Bar returned. The 6th event in the series which was sanctioned by the WMC was a massive success as spectators were treated to an evening of bouts comprised of international athletes and home grown heroes.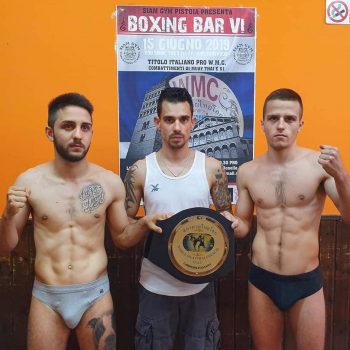 Beginning at 3pm the event opened with a series of bouts under IFMA rules then at 19.30 became WMC rules with a total of 5o bouts during the gala which was  organised by Cristiano Reni. The main bout of the evening was to define who is the champion of Italy between Francesco Novello (Siam Gym) and Michele Giuliani (Team Marceddu) with Michele taking the win after an epic battle.
The event was under the supervision of the WMC manager Davide Carlot who stated that this was another great event for Italy. Many of our athletes can now compete at the highest level which is amazing news for the sport and the federation of Italy overall as the hard work is paying off.