Historical Muaythai Meeting between the Kingdom of Saudi Arabia and the Kingdom of Thailand.
Muaythai is a combat sport and martial art with deep and ancient traditions passed down through generations from the old Siam to modern Thailand. Saudi Arabia traces its roots back to the earliest civilisations of the Arabian peninsula, the birthplace of Islam and today a sophisticated state and a major player on the international stage.
There are many important connections between the two kingdoms but one of them is the art and sport of muaythai. Muaythai is more than just a combat sport, it is built on the five important pillars of tradition, respect, honour, excellence and fair play which are also the important foundations of the Olympic movement.
The President of the Saudi Arabian Muaythai Federation, His Royal Highness Prince Fahad Bin Mansour Bin Saad Bin Saud Al Saud together with the General Secretary Mr Abudulaziz Ibrahim Albnan and members of the board travelled to the motherland for important meetings with the world governing body of muaythai recognised by the International Olympic Committee. 
His Royal Highness and his delegation visited the Sports Authority of Thailand and governor Dr Gongsak Yodmani, the National Sports Development fund manager, Khun Supranee and the honourary President of IFMA Doctor Tapsuwan who is also the President of the National Federation of Thailand.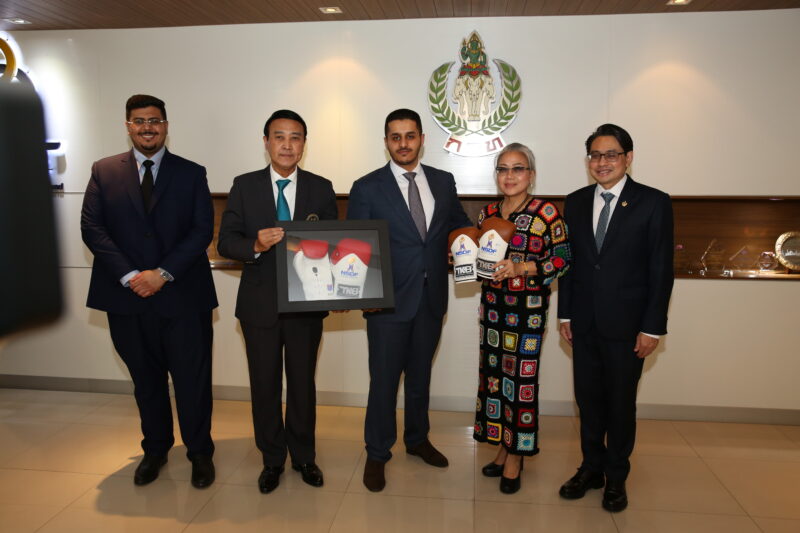 His Royal Highness stated that for the last 4 years IFMA and the Saudi Muaythai Federation have worked closely together with the National Olympic Committee of the Kingdom to set up a proper recognised federation and the Kingdom of Saudi Arabia is looking forward to enhancing and promoting the cultural aspects of muaythai and proudly have participated in the 2021 IFMA world championships, winning 3 medals.