Ilyass Habibali Makes the UAE Proud
The third UAE muaythai extravaganza saw a world class fight card with
the opening bout between Sheroz Kholmirzaev from Uzbekistan and Nouredine Samir from the UAE. Both fighters were trying to fight their way into the rankings and toward a qualifying spot for the World Games 2022. Sheroz showed outstanding boxing skills and Nouredine checked with razor sharp counter attacks using the close range and grappling to score points. Both fighters displayed outstanding muaythai skills but it was Nouredine which ended with a strong final round taking the bout by unanimous decision and heading towards the world rankings.
The main undercard fight saw 2 IFMA champions trying to book their way towards Birmingham with Bobirjon Tagiev from Uzbekistan taking on Valentin Thibaut from France. This was no doubt one of the most outstanding muaythai bouts, once again Uzbekistan showing why they are one of Asia's best and Valentine displaying outstanding grappling skills. After a hard fought match the Uzbek had the edge with a unanimous decision and a rematch is already in discussions.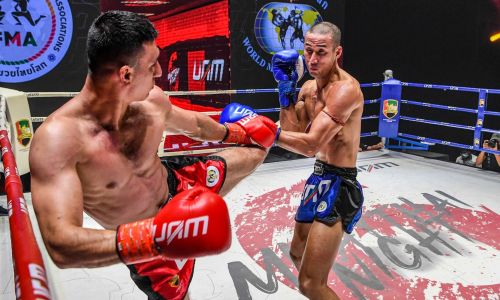 The final match saw Angel Marquez from Spain versus the Asian IFMA champion Ilyass Habibali from the UAE competing for the intercontinental title and a chance to compete for the belt of all belts, the WMC world title. This fight had it all but it was Ilyass who took the win with the pride of an entire nation on his back in the presence of the IOC Vice-President, the Chair of the National Olympic Committee of UAE, the CEO of the Dubai Sports Council and so many others showcasing the incredible muaythai development the UAE has done over the last few years.
The belt was presented by the President of UAE Muaythai, His Excellency Abdullah Al Neyadi and the IFMA General Secretary Stephan Fox. Now Ilyass will not only participate in the World Games 2022 but also has the chance to compete for the WMC world title.
Congratulations to UAE muaythai on this event. A special thank you to all the referees and judges and certainly all the VIP's, especially from the Olympic Movement.