Kunlun Fight 1 in Pattaya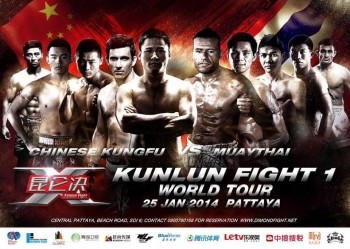 Every year many celebrations are done for the Sino Thai relationship between China and Thailand. This year Pattaya has been chosen to promote an international event. This will take place on the 25 January where Thailand will take on the Chinese team:
4 Man Tournament:
Petsangnuan Luktuofah (Thailand), Andrei, Kulebin, Guo Dongwang, Umar Semata
Super Fight
Kang En (China) vs Denies Puric (Canada)
Xiong Jingnan (China) vs Lena Ovchynnikova (Ukraine)
Deng Zeqi (China) vs Lerdsila Chumpairtour
World Tour
Li Baoming (China) vs Edgar Gustavo
Meng Guodong (China) vs Vehas Topking Boxing (Thailand)
Li Ning (China) vs Seang Atit Sasiprapa
Yan Xibo (China) vs Behzad Rafigh Doust (Iran)
The next event will take place in China in the name of the WMC, the world government body.
Gong Hei Fat Choy!