Muay Ying Movimiento – One of the Greatest IFMA National Federation Initiatives to Date
On February 22, females from twenty-five gyms from over 12 cities of Spain from various backgrounds traveled to the Center of High Performance of the High Council of Sports (CSD) in Madrid to attend the Muay Ying Movimiento seminar. This Spanish female movement was founded by IFMA Athletes' Commission Member and Champion, Sarai Medina and her best friend, Jessica Sola.
Muay Ying Movimiento began in April of 2019 to increase the popularity of Spanish female events and to promote female participation in muaythai by not only women wanting to compete but for women also wanting to train for fitness and personal well-being.
The first meeting took place on June 15th, 2019 with 25 females from Barcelona, Valencia and Zaragoza. This past weekend, females as young as 7 years and as old as 58 years traveled to the CSD from Barcelona, Tarragona, Valencia, Madrid, La Rioja, Pais Vasco, Salamanca, Gerona, Andalusia, Zaragoza, Mallorca and Islas Canarias from 25 gyms across Spain.
The historical day opened with the Vice President of FEKM, Gustavo Luna, introducing the founders of Muay Ying Movimiento, Sarai Medina and Jessica Sola, who warmly greeted the participants and thanked them for coming. Key note speaker, Janice Lyn, IFMA Athletes' Commission Chair and world champion, shared with participants her journey through muaythai and touched upon important topics such as athletes' rights and responsibilities, IFMA's leadership in muaythai and the Olympic Movement, IFMA's fight against doping and the athletes' rights to clean sport.
The morning session closed with wise and encouraging words from the President of FEKM, Jesus Eguia, and inspirational words from former multiple Karate World Champion and Director of the High Performance Centers Division, Rosa Ortega Pardo.
With the Tokyo 2020 Summer Olympics around the corner, the CSD was swarming with elite athletes preparing for the games. The afternoon session was lead by Ms. Janice Lyn starting with a quick warm up followed by technical muaythai drills, pad work and technical sparring. With all the Muay Ying movement and excitement in the CSD gymnasium, even Miriam Gutierrez, Spanish female Boxing World Champion, dropped in during the technical portion of the seminar to support and inspire her fellow female combatants.
Local TV network, Titan Channel, was also on scene with journalist, Rocia Arjonilla Rodriguez and professional fighter and Spanish champion, Abraham Redondo, covering this historic event.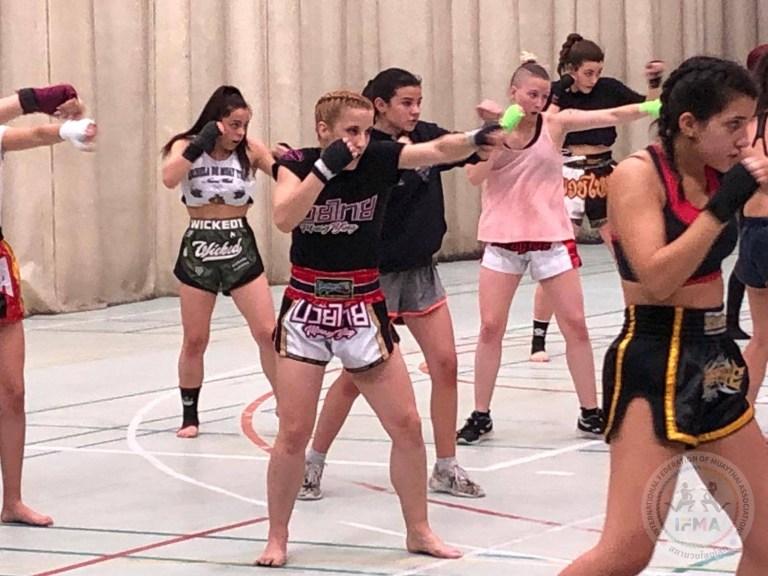 "We are all very happy to see how this movement is growing by leaps and bounds. I think it has been a total success this last meeting in the CSD. More and more women are encouraged and invited to take the initial step to start muaythai. We thank Janice Lyn for joining us on this trip and sharing her wealth of knowledge with us."
Sarai Medina
IFMA Athletes' Commission Member
Founder of Muay Ying Movimiento
"For me to train with these two high caliber fighters, Janice Lyn and Saray Medina, on the same day and to learn from them was an unforgettable experience. Being able to be part of a female seminar of this level leaves the best taste… it reminds me that everything is worth it and that we cannot stop now!"
Jessica Sola
Co-founder of Muay Ying Movimiento
"Without a doubt, sport is increasingly important for women, Muay Ying Movimiento, brings the values of Muaythai closer, teaching their way of seeing life. This Saturday, the coexistence between Janice Lyn and the women was a fantastic example of its advantages."
Jesus Eguia
Presidente FEKM
"It is exciting to see how muaythai makes all these girls happy, they are the engine that drives our lives, in gyms, in our homes and also in sports."
Gustavo Luna
Vice Presidente FEKM
Janice Lyn, Chair of the Athletes' Commission reported that she purposefully chose to travel with the team (Vice President, Gustavo Luna and CEO of Muay Ying Movimiento, Sarai Medina and some of the participants of the seminar) 5 hours in a van from Barcelona to Madrid to not only get to know the participants more but also get a better feel for this amazing grassroots initiative. "It was just beautiful to see and I am both honored and grateful to have been included in this experience. It dawned on me when we were driving in two vans to the Muay Ying Movimiento seminar in Madrid, that it was an initiative that was started to increase female participation in muaythai. However, in our two vans, there were about 30% males of various connection to the females (boyfriends, husbands and fathers) travelling to support the important females in their lives following their passion for muaythai. It was truly a family affair and beautifully celebrates the values of the Olympic Movement which includes that, the practice of sport is a human right. Every individual must have the possibility of practising sport, without discrimination of any kind and in the Olympic spirit, which requires mutual understanding with a spirit of friendship, solidarity and fair play."
Congratulations to Muay Ying Movimiento and to its founders, Sarai Medina and Jessica Sola and to the Federacion Espanola de Kickboxing and Muaythai, both Gustavo Luna, Vice President and Jesus Eguia, President, for their efforts to make this event a great success.