Naruepol Defeats Scott Mackenzie at Triumphant 7
Saturday the 13th April was the date for the return of Triumphant Muaythai Series sanctioned by the World Muaythai Council. The 7th edition of the show headed to the the gambling mecca Las Vegas with an all star line up of international athletes and local heroes.
Headlining the bill was IFMA Pan American gold medalist Scott Mackenzie from Canada as he went head to head with the world famous Naruepol Fairtex from the Challenger TV series.
Round 1 saw Mackenzie put his foot on the gas from the opening bell with Naruepol executing calculated counters and blocks.
Round 2 started off with Mackenzie throwing a barrage of punches and both athletes picking up the pace with Naruepol utilising his perfectly timed kicks.
Round 3 saw Naruepol working off the ropes with evasive techniques and Mackenzie trying to get in close to land shots.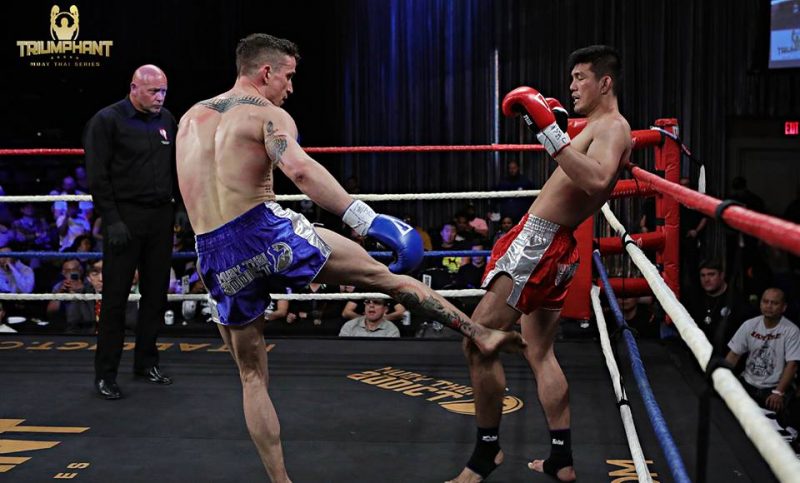 In Round 4 both athletes began to speed things up with Mackenzie trying to work the boxing with Naruepol landing nicely timed teeps to counter.
Round 5 was a big round for Naruepol as he landed a clean head kick knocking Mackenzie to the floor.
In the end when it went to the judges score cards the decision went to the man from Thailand much to the pleasure of his family who were all sat ring side.
Promoter Geoff Quares stated that this was another amazing event and we are happy to have conquered Las Vegas. We have big plans for the remainder of the year and we will continue on our journey to promote the sport at the highest level together with the WMC.