New WMC World Champion
The WMC would like to congratulate Sansatarn Sor Suradej as the new Welterweight (66.67KG) champion of the world. Sanstasarn went head to head with Lec Eiwa Sport in a spectacular fight before judges gave him the decision by way of unanimous decision. Sansatarn is a former Lumphinee champion as well as current national Thai champion and is over the moon to now hold the prestigious WMC belt.
The twelfth edition of BOM, the battle of Muaythai took place on Sunday 3rd July 2016, in Tokyo, Japan. Japan is no stranger to sport and is set to host the Olympics in 2020 and is the motherland of a host of other martial arts such as Karate, Judo and Akido to name a few.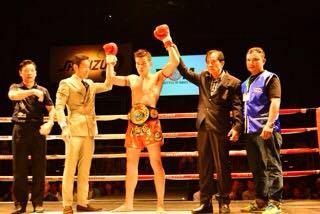 Promoter Mr Natsuo Nakagawa stated that this was another great event and he will continue to push Muaythai in Japan as well as globally. All at WMC are looking forward to the next event and hope Sansatarn enjoys his celebrations.