Pinca vs Kulebin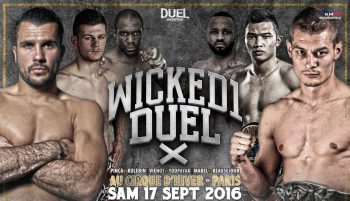 Saturday 17th September is a night everyone in the Muaythai world is looking forward to as two legends in the sport Fabio Pinca and Andrei Kulebin will go head to head. The Wicked One Duel will be held in the beautiful scenery of the Cirque d' winters in Paris and has got fans all over the world excited.
Pinca and Kulebin are both ambassadors in the sport and hold similar records but their paths have never crossed before making this the most anticipated fight of the year so far. Both are classed as two of the best fighters outside of Thailand and have the resume to prove it.
Kulebin holds an array of titles and has won numerous belts under the WMC as well as being two time WMC world champion. Pinca has an impressive record also and is famed for his win against Saenchai who is considered the best pound for pound fighter Muaythai has ever seen.
Pinca is scheduled to fight UK number one Liam Harrison in October. Harrison beat Kulebin in 2012 by a stoppage in round 3 with his notorious low kicks so it will be interesting to see the outcome of this fight with the October Harrison vs Pinca fight just around the corner.
Unfortunately, there can be only be one winner and all at the WMC are excited to see the outcome of this historical battle!