Thai Fight Superstar PTT Ordains as Monk
Thai Fight superstar PTT Petchrungruang recently ordained as a monk at Wat Boonganjanaran in Chonburi, Thailand. After winning an Omnoi Stadium title, and the 2016 Isuzu Tournament, he became a household name when he signed with the promotion Thai Fight.
Three months is considered a full term in the monastery, but nowadays many young men are opting for shorter ordainments due to economic constraints; PTT is no exception. With his busy fight schedule, he will be ordaining for just 15 days. Considered a rite of passage, it is generally expected that once coming of age, all Thai men will enter the monkhood for a period of time. Becoming a monk is not the same as ordaning as a novice monk. Monks must follow 227 precepts, where as novice monks will follow 10 precepts and lay people just five.
Originally fighting under the name Yodkhunpon, PTT was renamed after losing for an entire year. His manager got the idea from his father who delivers propane for a living. PPT (Public Company Limited) is a Thai state owned oil and gas company. The 20 year old fighter trains out of Petchrungruang Gym in Pattaya. In addition to fighting full time, PTT actively competes in local mini-marathons which he frequently wins.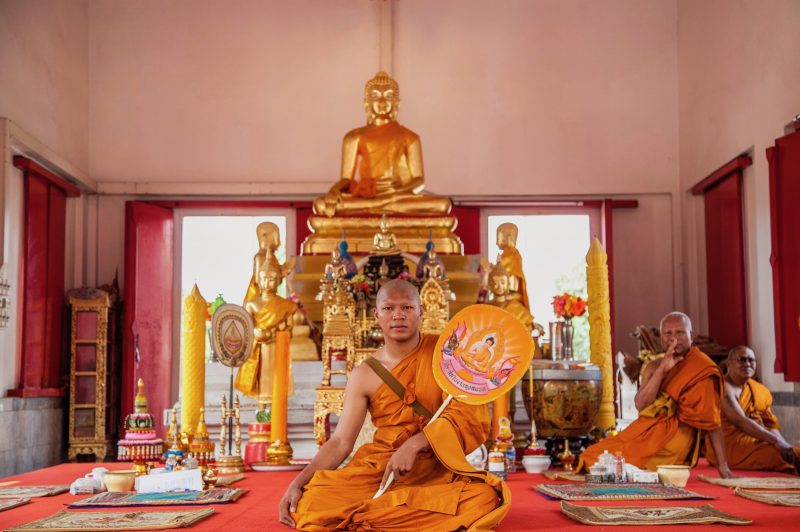 Thai photographer Jirakon "Bobbie" Kaewpanya, who also works for Thai Fight, traveled to Chonburi province to capture this significant moment for PTT and his family. You can follow Bobbie on Instagram.
Credit to Rough.Asia for the story
Link Below