WMC and IFMA Muaythai Superstars Belarusian Showdown
Topking World Series will see one of the biggest Muaythai showdowns in this world-class round robin muaythai event in Belarus, with the second round taking place in France, the third round in China, and the final in Thailand.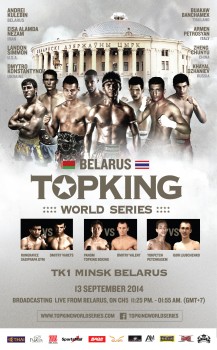 Many WMC and IFMA superstars such as Thailand's Buakao Banchamek, multiple IFMA World champions such as Andre Kulebin from Belarus and Igor Liubchenko from Ukrain will be competing with 16 other fighters in this event which will take place in several stages spanning 4 countries.
The first group of 8 fighters will be facing off this weekend in Belarus, the second group will face off in France later on this year. The remaining 8 will then compete in China and the final will be held in Thailand to crown the champion of this epic tournament.
The winner will receive a grand prize of 5 million baht, the runner up will receive 3 million, and third and fourth place will receive 1 million baht each.
Tags: Belarus, Topking World Series