Wu Fights a Knock out Success
For the next 14 months the People's Republic of China will be one of the centres of World Muaythai with the 15 event series of Wu fights in which the best Muaythai fighters of the world will take on China's best on the road to become the ultimate winner. The first round of the event saw multiple WMC and IFMA world champions taking on China's elite and the event proved that Chinese Muaythai is getting stronger and stronger and can go toe to toe with the best athletes in the world.
The evening began with a minute of silence by all athletes and officials to honour his Majesty King Bhumibol Adulyadej of Thailand who recently passed away. A special letter of contribution was given by the president of the Chinese Wu Shu federation Yu Zaiqing who is also the IOC vice president which shows the Sinothai relationships and also the close bond between the international Wu Shu federation and Muaythai, both members of SportAccord. In honour of Thailand the first match of the evening was given to the WMC world champion which is under patronage of his Majesty the King. Sansatan and Meng Qinghao put on an outstanding match in which Thailand won and dedicated the fight to his Majesty.
Thailand's champion  Rungrawee fought against Chinese national team member Xu Yong and China showed why they have become a force by sending the Thai packing. It was then Mateusz from Poland won against China to put the visitors up by one point and it was Ismail which lost against Yang Yu which put it back equal, it was then the Ukranian Oleg Prymachov won his match to put the visitors one ahead up front.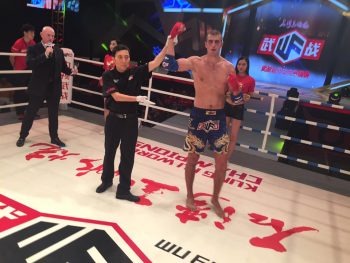 Chinese team member Cao Lujian won against Oguz. It all came down to the last match and five times IFMA world champion and Ukraine's hope for the 2017 World Games Igor Liubchenko was matched up against Cao Yagyuang in the final match of the evening and it was a match the audience will remember for a long time with Muaythai at world class level, both fighters showing world class skills, it was in the end that Igor Liubchenko won the match finishing on 4 to 3 for the visiting team but all fighters received a standing ovation from the full capacity venue. Over 30 million Chinese viewers watched the event live on TV, which is a fantastic for Muaythai and the World games 2017.