Best of Siam
Thursday the 23rd February will see the latest edition of the Best of Siam in Bangkok, Thailand at the prestigious Rajadamnern stadium. Rajadamnern Stadium opened its doors in 1945 and has since helped shaped the lives of many young athletes making them elite world famous champions.
Promoter Jean Charles Skarbowsky has put together an evening of world class events with some of the best current fighters on the muaythai scene including Fabio Pinca, who will be gracing the ring and having the chance to become the Rajadamnern champion at 147lbs, going head to head with Manaowan in a fight which has got Muaythai fans all around the world talking.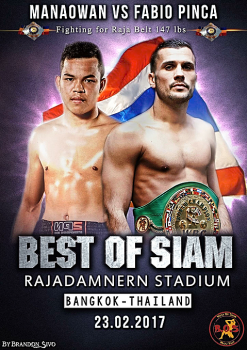 Fabio is on a 5-win streak at the moment including a recent win over UK number 1 Liam Harrison. He has been in with best of the best including Saenchai, Saiyok, Kem and Diesellek to name a few and holds an array of titles but is yet to receive a Rajadamnern title which makes this a very important fight for him.
His opponent Manaowan Sitsongpeenong is no walkover and holds the current title which he was awarded in May, 2016 beating Azize Hlali on points.
This event will start at 6.30pm and is looking like it will be sold out so best get there early!