and the new WMC Fly Weight (112 pounds) Intercontinental Champion is….
Saturday 16th July in Milan, Italy saw an epic night of fights at the ASD International Fighters Gym sports venue. The headlining fight featured two fighters competing for the WMC Intercontinental title which saw Gabbie Naughton from the UK training out of Frank's gym and trained by Frankie Hudders take on Barbara Bontempi. Barbara who fights out of the International Fighter's gym (Italy) and holds the WMC European title now has another trophy for the collection taking home the WMC Fly Weight Intercontinental belt.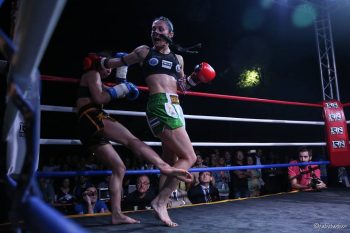 The two fighters were seen having dinner and sharing jokes together afterwards which highlights the true sportsmanship of Muaythai. Both fighters showed a tremendous amount of  respect and esteem for each other and are an example to other athletes stated promoter Davide Carlot.
Gabbie Naughton said that it was an honour to fight Barbara who has a wealth of experience .
"Although I didn't get the win and the belt last night I am still proud of my performance! I felt so strong, fit, confident and ready for this fight and wanted it so badly. I was focused and could hear everything Frank was saying in the corner, the fight was very close and having franks approval on how I did means a lot to me and having lots of the Italians say I won also shows something! I've had a really good experience here in Italy, wish I could have stayed longer! I just can't wait for the next one now!"

The WMC would like to congratulate Barbara on another great achievement and would also like to salute Gabbie on being the best she can be and representing the sport at the highest level.