Best of Siam 3: A Great Success
Former WMC and French Champion Jean-Charles Skarbowsky and Thai Champion Krongsak Prakong-Boranrat krongsak, together with Muaythai enthusiast Hakim Didda have begun 2013 with the Best of Siam 3.
The fight card was full of Thai and international superstars. Thai Champion Petchasawin took on Charles Francois, and this fight had it all from the opening to closing, all eight weapons of Muaythai, to the delight of the audience. It came down to a split point decision in favour of Thailand.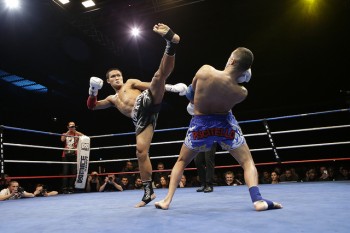 Kem vs Mickael Piscitello was the next fight up. Kem, who had just come out of a loss against WMC Champion Yodsanklai, needed this fight to get back into the world rankings. From the opening bell, he wanted to ensure he came out on a winning note. Mickaelwent toe-to-toe with the Thai, but Kem was too strong at the end taking a unanimous point decision.
Medhi Zatout took on one of the veterans, Kaoponlek. Medhi, who is one of the most technical fighters, showed his perfect techniques for the first round. But in the second round, out of nowhere, the Thai veteran pulled a punch and the referee had to put an 8 count on Medhi. The Thai fighter won the 4th and 5th rounds in a close decision in this spectacular fight.
The rematch, Fabio Pinca vs. Sittichai, was one of the most talked about fights, as in the last encounter, it was Pinca who claimed the victory. This time Sittichai came well prepared. It was a great performance by both fighters, but Sittichai was the stronger of the day. Everyone is looking forward to the deciding match, coming up soon.
The main event was for the WMC Intercontinental title. Defending champion Marco Pique from Surinam, was challenged by French Champion Raphael Llodra. Raphael put on a world class performance against international superstar Marco, dominating the fight from the opening bell, and Marco Pique had no choice but to surrender the title to France.
The female fight of the evening was between France's Sandra Sevilla and English Champion Lucy Payne, for the WMC ranking fight, and the chance to fight for the WMC European Title. In a great promotion for female Muaythai, both girls got a standing ovation, but it was Sandra who was the stronger fighter, making it into the top ten Europe.
After this great promotion, everyone is looking forward to Best of Siam 4!
Tags: Best of Siam 4, Charles Francois, Fabio Pinca, Kaponlek, Kem, Lucy Payne, Marco Pique, Medhi Zatout, Mickael Piscitello, Paris, Petchasawin, Raphael Llodra, Sandra Sevilla, Sittichai, WMC Intercontinental Title