Dmitry Varets New Top King Champion!
In the last edition of the Top King Series in the 70 kg weight division, the final 4 has been set between IFMA World medalist and big Russian sensation Khayal Dzhaniev, IFMA European Champion and World medalist from Belarus, Dmitry Varets, Muaythai superstar and former WMC Champion, Kem Sitsongpeenong, and Chinese star Liu lei.
In the first semi-final Kem has competed against Varets where we saw a display of what the Belarus school of muaythai is famous for. Dmitry demonstrated the arsenal of the art of eight limbs, finishing the match in the first round by spectacular knock-out.
"It is a twice the satisfaction to win in a muaythai match against the representative of the motherland of the sport, and I have to give Kem the credit due for his power of will and his spirit" – Dmitry to WMC.
In the second semi-final with Liu lei, Khayal Dzhaniev was a clear frontrunner gaining advantage from the beginning of the fight which resulting in a confident victory. For Liu lei this was a challenge taken honourably and where he was able to gain experience by competing against the best.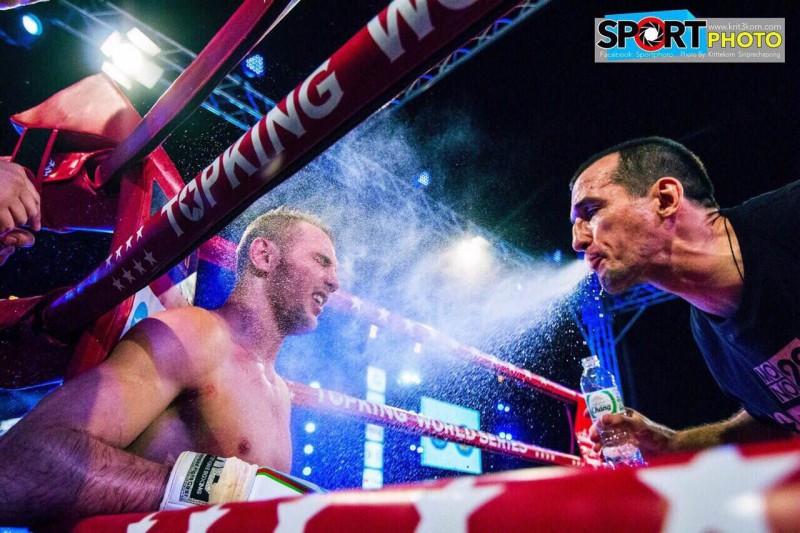 The final match was a true spectacle for the audience where the first round going to Khayal and the second round equalized by Dmitry, and Dmitry turning up the pace in the third round making his opponent summoning all the skills and experience.
At the end of the third round referees could not reach clear decision of which fighter to be the winner, and it was after an extra round that the audience saw the glove of the Belarus fighter, Dmitry Varets raised making him the clear champion of the Top King title.