France vs Portugal
Saturday the 14th October in the beautiful city of Veigne, France will see a night of muaythai action at 'La Nuit De L' Uppercut' sanctioned by the WMC. The event will feature international bouts with the main fight for the WMC European title Super Feather Title at 58.9kg between Sofiane Meddar (France) and Roman Skulskyi (Portugal) as well as a solid undercard.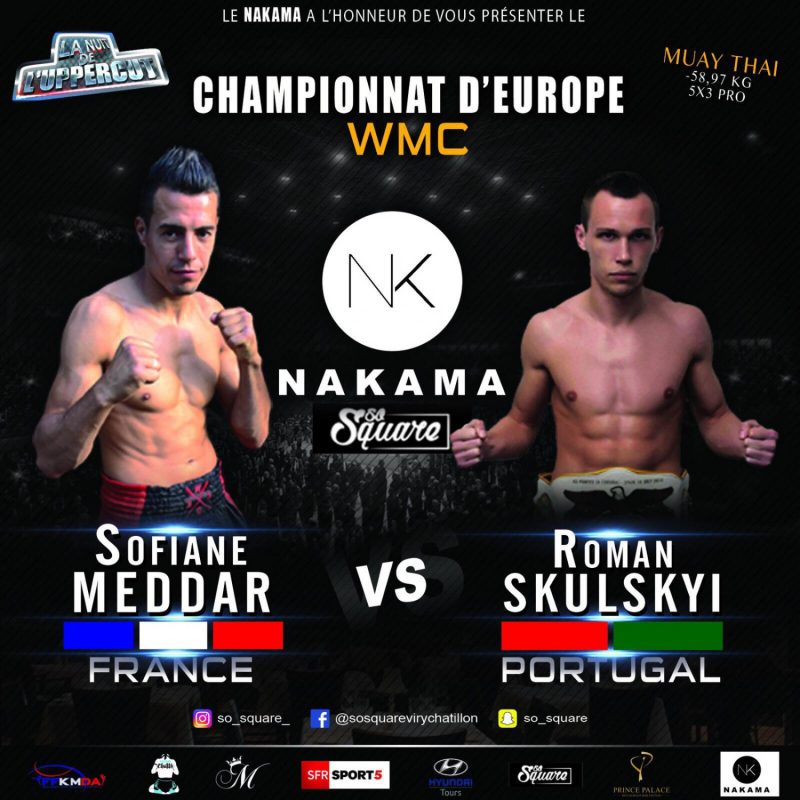 French WMC promoter Pascal stated that this event is testament to how strong the muaythai scene in Europe has become over the past few years and it is great to bring such talent to go up against our local boys.
From all at the WMC we wish all of the athletes the best of luck.
Malyck TAVARES (Portugal) vs Maldin HAMZAI (Italie)
64,5kg : Cristian FAUSTINO (Italie) vs Antonio BORGES (Portugal)
71,8kg : Faouzi DJELLAL vs Yao Julien APELETE AGBETIAFA (Italie)
56kg : Vittoria DI MAURO (Italie) vs Rita CARVALHO (Portugal)
67kg : Steven LALLEMAND vs Francesco NORRITO (Italie)
42kg : Paco CORMIER vs Enzo MBANG MBA
50kg : Melissa PRELIC vs Angélina PASCUTTO
60kg : Witchina JUGE vs Anastasia DE MELO
60kg : Appoline CARO vs Ornella PASCUTTO