Full House for Muaythai for the Semi-Finals at TWG2022
In the 63.5 Male Division, Weerasak Tharakhajad brought his A game to UAE superstar, Nouredine Samir and World Games veteran, Igor Liubchencko, had his eyes on another gold, beating Team USA's Joseph Mueller in a scintillating semi-final match.
In the 57 kg Male Division, Kazakhstan's tricky and slick Almaz Sarsembekov beats Jordan in a flawless match and SEA Games gold medalist, Nguyen Tran Duy Nhat, edges out European Champion from Ukraine.
In the 51 kg Female Division, Meriem El Moubarik and Gabriela Kuzawinska fought for redemption as both fought at the 2017 TWG. Meriem's clinch and strikes edged out the Polish champion and will meet IFMA World Champion, Monika Chochlikova in the finals.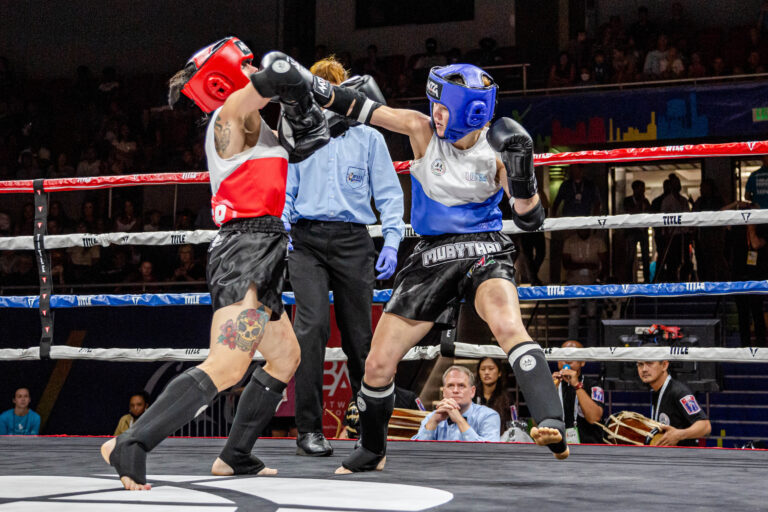 In the 48 kg Female Division, Canada's Regan Gowing pushes the pace with her explosive low kicks and technical clinch to pull the win over Spain and Ukraine's Anastasiia Kulinich will meet the Canadian in the finals with a huge win over Team USA.
In the 67kg Male Division, Thailand's Anueng "Capitan" Khatthanmarasri brings his A game to a heartfelt performance by Norbert Speth from Hungary sweeping all 3 rounds from under the Hungarian. Morocco's Rachid Hamza puts on a stellar performance against UAE and will meet the Captian in the finals for gold.
In the 57 kg Female Division, in an exciting match between two female world champions, Iman Barlow from Great Britain pulls off a flawless performance against World Champion Patricia Axling from Sweden. USA's "T-Money" Tierra Brandt puts on a money performance against Hong Kong booking her spot in the finals for gold against the British superstar.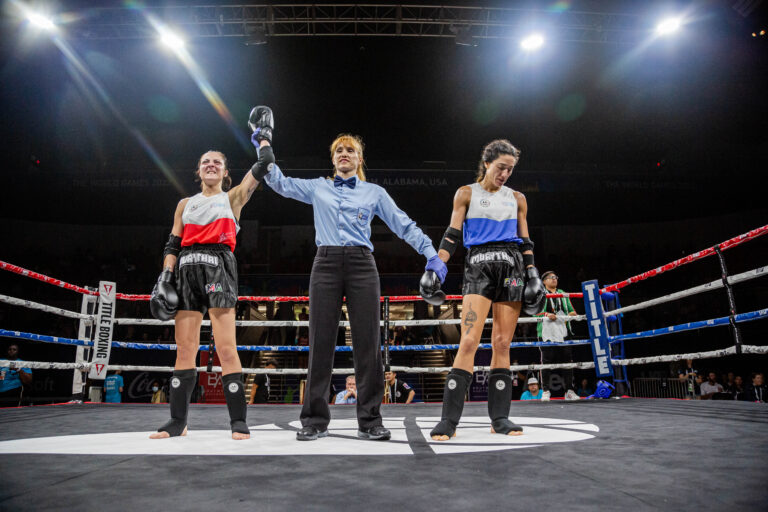 In the 54kg Female Division, USA's Ashley Thiner meticulously uses her range with her teeps and left cross to keep multiple world champion, Australia's Yolanda Schmidt, from scoring taking the win and booking her spot in the finals. In one of the most exciting matches of the evening, WMC Champion, Sveva Melilo from Italy went toe to toe with Mexico's Laura Burgos with the Italian edging out Mexico by a hair in an extremely close semi-final match.
In the 91kg Male Division, USA's Matt Baker continues his streak of upsets and takes the win for the Home Team against European Champion, Lukasz Radosz from Poland. Ukranian superstar, Oleh Primachov stops France in his tracks and will meet Baker in the finals for gold.
In the 81kg Male Division, with one of the most exciting and nail-biting matches of the evening, Home Team's Aaron Ortiz goes toe to toe for redemption against current WMC Champion, UAE's lyass Hbibali. Ortiz's hunger for redemption and gold was clear as the home team took the win and ticket into the finals for gold against Portugual's Diego Dalaldo.
In the 63.5kg Female Division, Zoe Putorak brings the win home for Australia giving her A game to the Home Team's Erin Clayton. The Australian will meet France's Nora Cornolle in the Finals tomorrow who beat Thailand in a close semi-final match.
Last but certainly not least was the 60kg Female Division. Team USA's Charlsey Manner defeats Hungary and Israeli superstar and multiple world champion, Nili Block defeats Team GB's Niamh Kinehar to book her way into the finals.
What an exciting day of semi-finals!
We see you in a few hours to see who will win gold in the finals of The World Games 2022!