Ignition Muaythai 4 – Results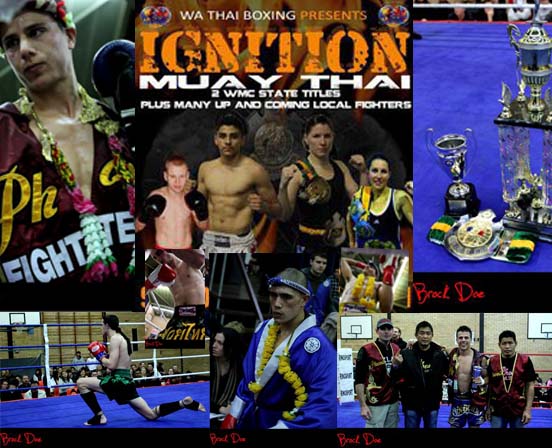 The fourth appointment in this series of sell-out events hosted by the West Australian Thai Boxing and Peter Boyd, trainer and official WMC promoter, was held in Perth on the 10th of July, 2011.
The show was brought with an amazing lineup of seventeen fights featuring fighters from Perth, Bullsbrook, Bunbury, the Northern Territory, and Queensland. Peter Boyd and the WATBC team, again put on an action packed event that started at 1pm, with the crowd rolling in as soon as the doors opened and keeping a full house until the final bout in the evening.
After an exciting under card, it was time for the 3 main events, including two Australian State Titles.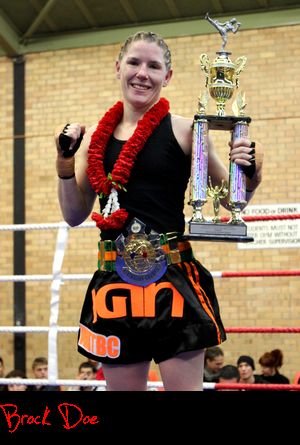 Fortunately after a late pull out by Abby Nelson for the State Title, promoter Peter Boyd contacted Craig Glover and managed to match Kate Heuston (WA Thai Boxing Centre) against Narelle Leahey (Street Smart) for the WMC 57.1 kg Female Australian Title. This was a great start to the main card with Kate using great ring craft and push kicks to take away Narelle's boxing skills. Kate continued through each round using her kicks and grappling skills to take the bout and the highly treasured title in a very close point's decision.
The next bout saw Wayde Devine (Westside Kickboxing) vs. Sam Drake (Club Menace) on the 76 kg weight division. These 2 boxers gave it their all and hit each other with everything from solid kicks to crushing elbows. In round 3 Sam received an 8 count after Wayde delivered what seamed to be a never ending punch and elbow combination. These boys fought right to the end with a very excited crowd standing on their feet in support. Wayde took the bout in an UPD.
The main bout of the evening was between 2 of Perth's up and coming juniors Millad Farzad (WA Thai Boxing Centre) vs. Ray Holtham (Typhoon Gym) battling it out for the WMC 63.5 kg Junior West Australian State Title. The last time these boys met in the ring the bout turned out a draw, but it was clear from the very beginning that neither of the boys wanted the same result. Both displayed great muaythai skills proving the standard of Western Australia's juniors is second to none. Millad ended up taking the bout and the title by TKO in the 3rd round due to a cut sustained to Rays' head by Millad's dropping elbow.
Results :
Jack Taylor def. Kyle McCarthy TKO
James Bovill def. Tony Taurima UPD
Micheal Grylls def. Noel Jackson KO
John Mulhern def. Boyd Wimshurst UPD
Charles Piano-Povey def. Patrick Dawson UPD
Kirra Hunter def. Mia Kingwell UPD
John Morton def. Morgan Arrow UPD
Te Henare def. Rob Carr KO
Kristan Armstrong def. Ali Lee UPD
Elonie def. Travis Norton UPD
Matt Moss def. Regan Sargeant SPD
Alex Smith def. BJ Rogers SPD
Matt King def. Micheal Kerr UPD
Sam Ballantyne def. Roy Daynes TKO
Kate Heuston def. Narelle Leahey SPD
Wayde Devine def. Sam Drake UPD
Millad Farzad def. Ray Holtham TKO