IGNITION Muaythai Sunday 7th July 2013
Perth Australia will host a huge WMC event with 3 x WMC titles on the card.
Millad Farzad (Australia) v Ismet Korkmaz (Turkey) 69.85kg MAD WMC Jnr World title.
This bout is going to be one that's talked about for years to come!
These two Champion Juniors faced off in the semi final of the IFMA Junior World Championships earlier this year in Istanbul. Ismet took the bout on a points decision giving Millad the bronze medal and moving onto the final where Ismet won the silver medal after a tough bout with the Russian gold medallist.
Millad is out for revenge and has sent a message to Ismet saying "Losing is not an option for me"
Dont miss two of the best juniors in the world battle it out for the belt in a full thai rules action packed main event.
Kate Heuston (Australia) v Kubra Karabag (Turkey) 57.1kg  WMC Intercontinental title defence
Kate is putting her 57.1kg WMC Intercontinental title on the line against Turkish national champion Kubra.
The growth of female Muaythai around the world has been massive and these two females are world class.
Kate is an aggressive fighter who pushes forward and loves to use elbow's. Kate has her sights on the WMC world title and this fight is another stepping stone towards that dream. This bout will prove ounce again that females have stamped their position in Muaythai around the world and its a fight that you dont want to miss.
Kristan Armstrong (Darwin Australia) v Kaitlyn Vance( Perth Australia) 50.8kg WMC Australian title
This is another exciting female bout on the card Kristan v Kaitlyn. These two champion females have met twice before in the ring with a win each.
This trilogy decider will be for the WMC Australian title. These two females are pockets rockets and will leave everything in the ring.
Other exciting bouts on the card are
International bout
Mighty Go (Thailand)  v  Roy Wills (Australia) 5 x 3 full thai rules
Intersate bout
Blade Augey (Darwin Australia) v Patrick Xenea ( Perth Australia) 5 x 2 full thai rules
Local Super bout
Mark Coleman (WATBC) v Mat King (Kao Sok gym) 5 x 2 full thai rules
Plus a massive local under card of male and female fighters.
TICKET INFO
mobile – +61401373001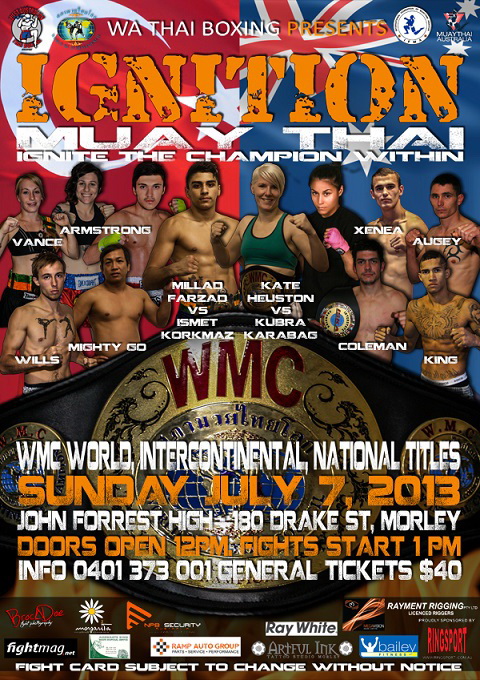 Tags: Ignition, Ismet Korkmaz, Kaitlyn Vance, Kate Heuston, Kristan Armstrong, Kubra Karabag, Millad Farzad, Perth, WMC Intercontinental