Jimmy Vienot to Defend his Title Against Yodwicha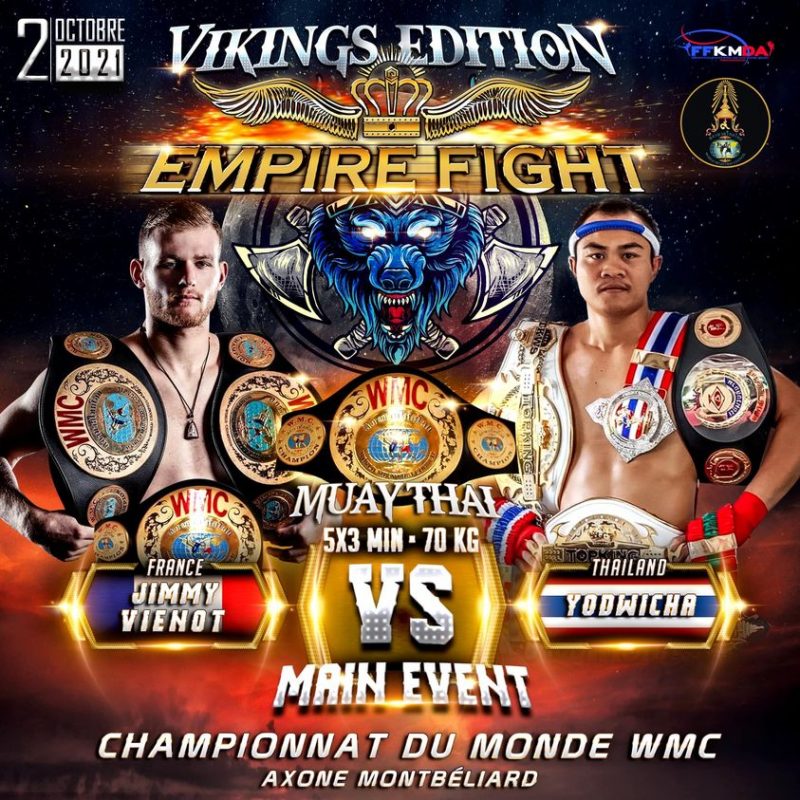 Christmas has come early this year for muaythai fans around the world as Empire promotions have just signed the world title bout of dreams between Jimmy Vienot and Yodwicha. Promoter Omar Sellami has worked hard throughout the pandemic to bring us this special super fight which is set for Saturday the second of October in the city of Axone, Montbeliard in France.
Jimmy Vienot is a 2 time WMC champion and multiple time IFMA gold medalist who first acquired the WMC world title from Sorgraw Petchyindee at Rajadamnern stadium in Thailand. He then went onto defend the title against Israeli fighter Ilya Grad but the bout was considered a no contest bout as the pair clashed heads in the first round forcing the referee to stop the bout. Vienot successfully went on to defend the title against Chanajon PK Saenchai Muaythai Gym from Thailand who Vienot had previously lost to twice so this was an amazing victory for the young Frenchman. Aside from his WMC achievements Jimmy is one of the few foreigners to have ever become champion of the prestigious Lumpinee Stadium in Thailand.
Yodwicha is definitely a name that needs no introduction in the muaythai world having gained both domestic and international recognition at the highest level. Formerly competing out of the Por Boonsit Camp, Yodwicha recently joined the Banchamek Gym where he trains alongside stable mates Buakaw and Superbon. A champion of both the Lumpinee and Omnoi Stadiums, Yodwicha is also an IFMA gold medalist, winning the IFMA World Championships in Cancun after beating Superbon in the national qualifiers. Yodwicha is currently on a 30 fight winning streak having not lost a bout in five years and has really has beaten the best of the best. Yodwicha holds wins over Saenchai, Singdam and Saensatharn to name a few and is ranked number 3 in the WMC rankings.
The pair have fought two times already with Yodwicha taking both wins by points decision. When asked who he would like to defend his title against Jimmy asked for only one man.
Jimmy never takes shortcuts, his last title defence was against a top level Thai who has beaten him twice and now he asked for Yodwicha who has also beaten him twice. This shows the level of fighter Jimmy is as he is willing to take on the best of the best to push himself and not pick easy fights.
Will Jimmy Vienot erase his previous defeats against Yodwicha and conquer his demons or will Yodwicha take the belt back to Thailand scoring a hat trick and remaining undefeated for five years? 
This fight promises to be one of the most electric of the year so make sure you tune in to watch it as Axone de Montbeliard will undoubtedly be the world capital of muaythai on October the 2nd.
Kudos to all at Empire Fight promotions and especially to promoter Omar Sellami for making our muaythai dreams come true.