MTGP8: Athens
Saturday 20th May 2017 @ Enastron Arena, Athens, Greece
MTGP's second 4-man tournament in Athens, Greece has been announced. It's a strong line up and includes four of the very finest competitors from well respected gym camps inside of Greece. They will compete at MTGP's 8th event in association with the WMC (World MuayThai Council) with each fighter wishing to stamp their mark on the WMC and MTGP world rankings.
The 4-man tournament will showcase the -67KG weight bracket including two drawn semi finals and a grand final. Each bout will consist of 3×3 minute rounds at FTR level.
The winner will compete on the London Grand Prix at The O2 on a near future show.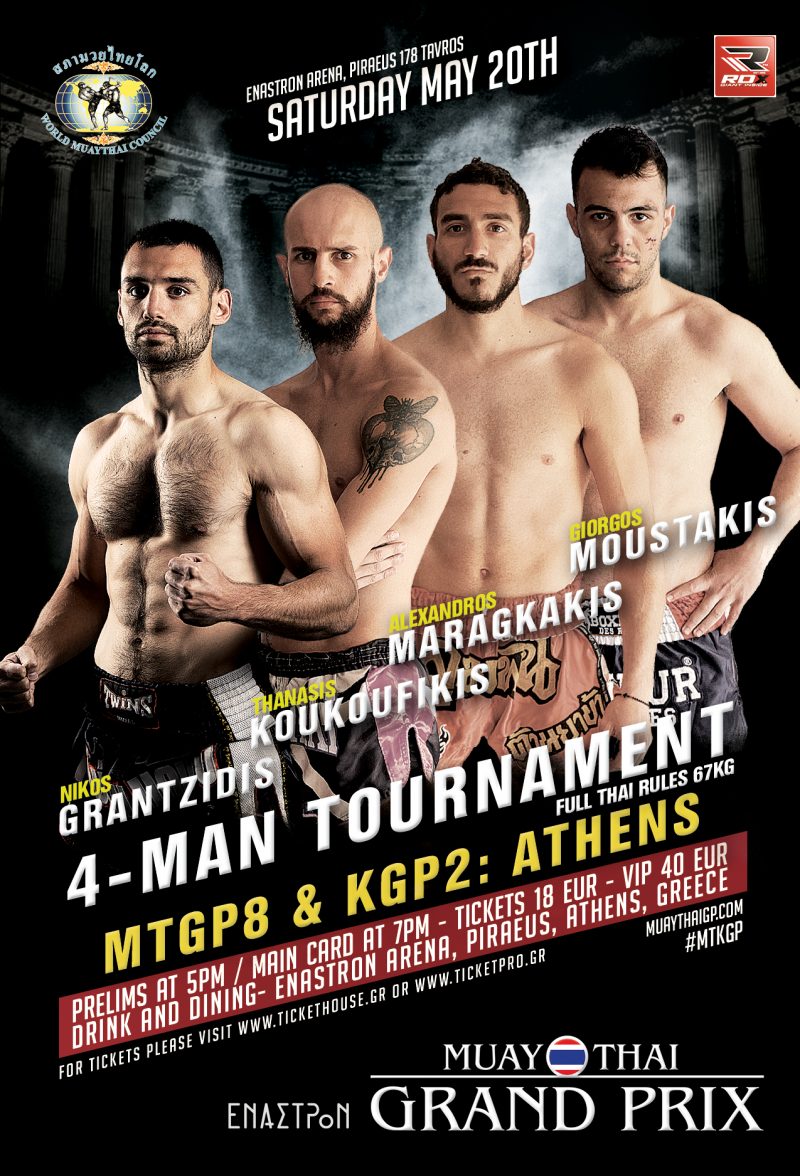 The MTGP 4-Man Confirmed Line-up:
NIKOS GRANTZIDIS (Diamond Camp)
THANASIS KOUKOUFIKIS (Fight Lab)
ALEXANDROS MARAGKAKIS (Lions Camp)
GIORGOS MOUSTAKIS (X-Fight Nation/Nas Camp)
The first Greek 4-man tournament at 70KG last year saw Giannis Tsigos lift the trophy in spectacular fashion. Will Grantzidis, Koukoufikis, Marakakis or Moustakis become the second 4-man tournament king?
Catch them all on Saturday May 20th @ Enastron Arena, Piraeus 178 Tavros, Athens, Greece.
The MTGP8 also features several UK MTGP fighters including Ryan Li, Marley Zwanenberg and Louis Marcoulias from Team Tieu in London.