Muaythai Invited to the Royal Thai Parliament
A very important meeting took place at The Royal Thai Parliament, invited by Dr. Boonlue Prasertsopha Chairman of the Standing Committee on Sports, House of Representatives .
Over the last weeks, various communications had been circulated with regards to the status of the recognized muaythai bodies in the Kingdom of Thailand, and also false rumours circulated which needed clarification. This is why all the different relevant ministries and government departments such as the Ministry of Tourism & Sports, the Sports Authority of Thailand, (SAT), Department of Physical Education, National Olympic Committee and others.
The Chairman invited the two nationally recognised muaythai organisations within Thailand, namely the Amateur Muaythai Association of Thailand (AMTAT) under the Presidency of Dr. Sakchye Tapsuwan whom is also the IFMA President, and the Professional Boxing Association of Thailand (PAT) under the Presidency of Khun Somchart Charoengwacharawit.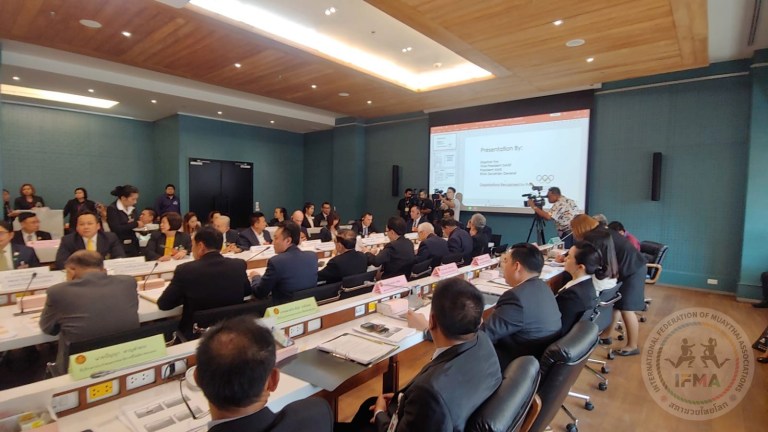 Also invited was IFMA, as the recognised International Federation by the IOC and GAISF. IFMA had the opportunity to make a detailed presentation, clearing up all the rumours and ensuring that IFMA as the IOC recognised organisation would always promote and foster the important cultural aspects of Muaythai and recognising Thailand as the motherland of the art and sport. It was also important for the IFMA Executive to outline at the meeting the common goals and vision towards the youth in the sport, and the Olympic values, as an international federation, and that IFMA has never made any claims to having recognition within Thailand but with respect to the motherland, works strictly with the two recognised national associations and with the Kingdom towards the promotion of muaythai and Thailand's Youth Olympic bid.
A special MOU has been signed by the two nationally recognised federations with IFMA with SAT as advisor to ensure continued cooperation.