Nick Trask Hangs up the Gloves after an Epic Win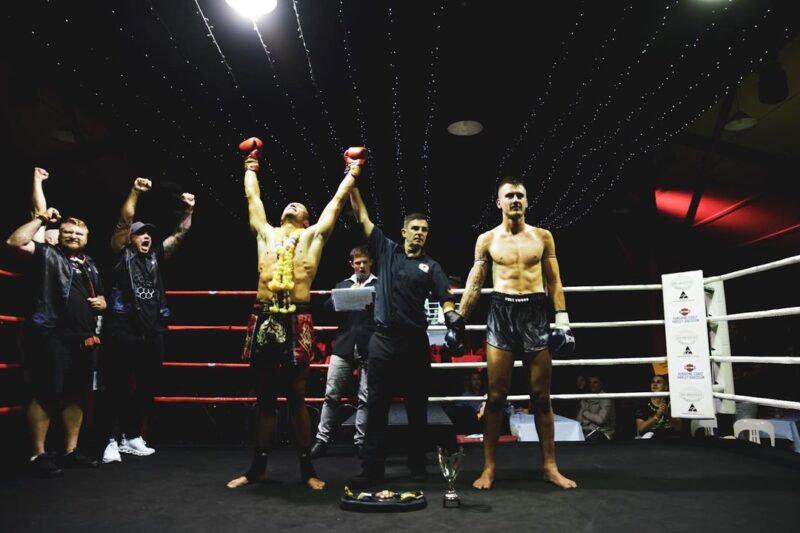 It was a night to remember on Saturday the 4th of June as Coastal Warfare returned to the Banana Bender pub in Queensland for an evening of muaythai action. The main event between Nick Trask and Cody Trae Jameson for the WMC Australian title was the spectacle of the evening. The WMC caught up with the winner and new champion Nick to get a few words as after the fight he announced his retirement from the sport.
Nick stated "I'm happy to have won the fight and happy to retire now after competing in the sport for 16 years and having 42 fights. On the fight – I'm really glad to have fought Cody, he was very strong, particularly kicking and knees. I wanted a tough fight for my last one and that's what I got. The kid has a big future. Having the experience I knew what I needed to do to win against this style of fighter. I did what I needed to do to a certain degree using my teeps effectively and then faking and capitalising with my boxing and kicks of my own."
"He has a killer left body kick and I knew this. To mitigate this I was sure to stay tight with my guard and be tough and wear them which has always been an asset of mine. I stayed busy and moved forward for the majority of the fight which got me over the line with a points decision. I was happy with how I fought and pleased Cody could be my final fight. Now I intend to work on training the next generation of fighters".
"Out of my gym Heart Out Muay Thai. This is where my focus will go now, together with my family. I am content to help build the next generation out of my gym and build my fight promotion which is called "Rise Championship" at the Sleeman Sports Centre here in Brisbane. Our goal is to give fighters of all levels a platform to help them grow and really give back to the sport."
From all at the WMC we wish Nick the best of luck in his retirement and good luck in his new endeavors!