Saensatan, not just your Ordainery Fighter!
Saensatan P.K. Saenchai Muaythai Gym has just ordained as a monk following a really strong couple of years and a  recent big win. Saensatan 2 times WMC World champion and former Lumphinee Champion recently won Thai Fight, awarding him 1 million Baht and a Pick up Truck before heading to partake in the ceremony to be accepted into the monkhood. PTT Petchrungruang fellow Thai Fight team mate also put on the saffron robes last week after also been victorious in the Thai Fight final.
The ordination follows a strict ceremony bound by tradition with the initial phase being to shave the hair of the the monk-to-be or nak. The first cut of the hair has to be done by parents, senior relatives or a revered monk before a barber shaves the remaining hair, eyebrows and any facial hair. The nak is then bathed and cleansed before being dressed in white and  participating in a procession at the temple.
On arrival of the temple the nak must circle the ordination hall clockwise three times whilst the family walk in procession. Each family member must carry a requisite of the monk-to-be and are led into the ordination hall to witness an assembly of monks examine the suitability of the candidate hoping to be accepted by the Sangha.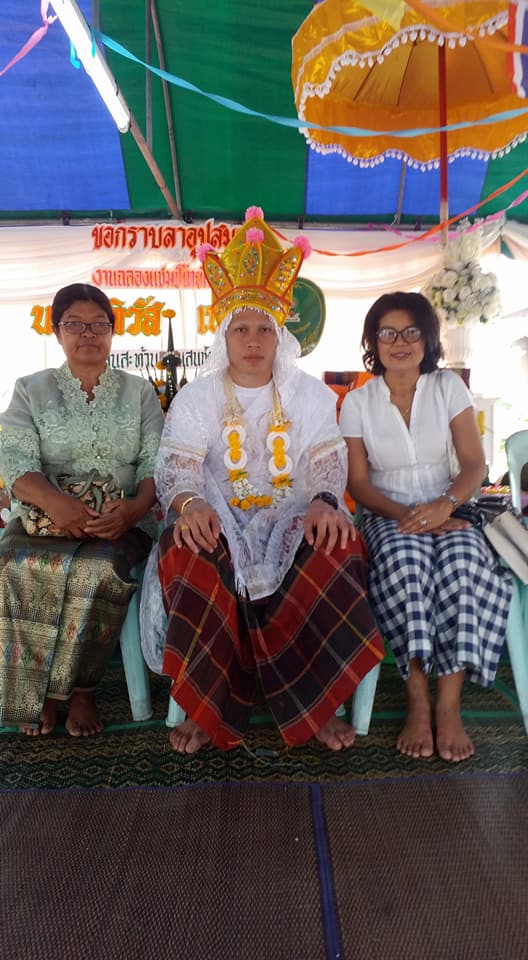 Most Thais from 20 upwards are expected to to ordain as a monk for a period of time at some point within their life as the belief is that it is a way to gain merit not just for the monk-to-be but also for his parents.  Ordination is also practised as a way to show gratitude to them as is evidenced by an idiom (ko chai pha lueang khuen sawan) meaning "clinging to the edge of the yellow robe to heaven".
From all at the WMC we would like to congratulate Saensatan on his recent achievements in muaythai and for his dedication of entering the monkhood.