TAFISA Celebrates 30 Years
2021 marks a landmark year for TAFISA as it celebrates its 30th Anniversary!
In 1969, the inaugural "Trim and Fitness" conference was held in Oslo, Norway, with representatives from eight European countries. These conferences, which went on to be organised every two years and developed into an unofficial steering platform for the Global Sport for All Movement, constituted the foundation of TAFISA.In 1991, representatives from 40 countries officially founded TAFISA in Bordeaux, France. Now in 2021, TAFISA counts 373 members from 160 countries, with both figures continuing to rise.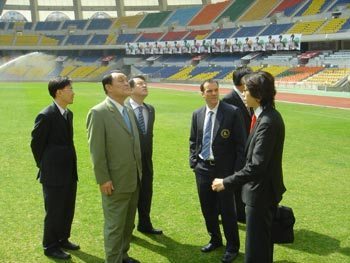 IFMA's introduction into TAFISA was in 2008, when it was included into the official sport programme of the TreX-Games, later known as the TAFISA World Sport For All Games.
The IFMA Secretary General travelled to Busan in April 2008 for an inspection visit of the venues and hotels in Busan, and a meeting with Mr. Wan-shik Hong, the Secretary General for TAFISA World Sports for All Games, to discuss the cultural aspects of the games.
During that visit, a special meeting was held with the President of the Korean Muaythai Association, Mr. Yeo Kyu Tae, who became an IFMA Honourary Life President in 2019. Mr Yeo has since IFMA's inception worked tirelessly for the promotion of the sport of Muaythai in Korea. Through his passion and commitment, Muaythai became one of the main sports in the 2008 World Sports for All Games and the event was honoured to be held at the beautiful Asiad Main Stadium.