Thailand National Championships Kick off Today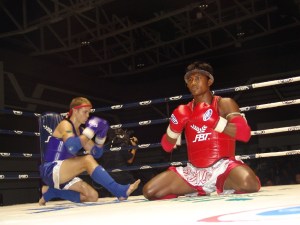 Over the next 5 days many of the Thai superstars will gather again to determine who will represent Thailand at this years IFMA Championships, Arafura Games, Asian Championship, World Championship and who will be proudly wearing the official Thai tracksuits. Many of the Thai superstars of today started their career at IFMA and then exploded into stardom.
Buakaw became a 5 times WMC world champion, Yodsaenklai became Contender Asia champion and 3 times WMC world champion and who can not forget the two epic battles in which Yodsaenklai beat Levin Atrem for the WMC title and then Levin Artem beating him at the final of the World Combat Games.
Superbon has become one of the Thai national team superstars winning the IFMA World Championship 4 times and also becoming the World Games champion making his country proud.
The list goes on and so does the cooperation between IFMA and WMC which is key to the development of all these athletes and this is not just for Thailand, if you look at all the superstars around the world, Kulebin, Artem, Chommanee, Kuliyaba, Jimmy Vienot, Myriam Djedidi and Sofia Oloffson, all of them do their national duty when it comes to IFMA. Even some of the female athletes which have become superstars in UFC such as Valentina Shevchenko and Joanna Jedrzejczyk, now pound for pound champions have been multiple IFMA and WMC champions.
Many other sanctioning bodies give out belts like candy but only through the proper use of national federations going through amateur and then participation in the elite events makes you a real champion and this structure is key to IFMA and WMC's success.