Thailand Vs. Challenger 2011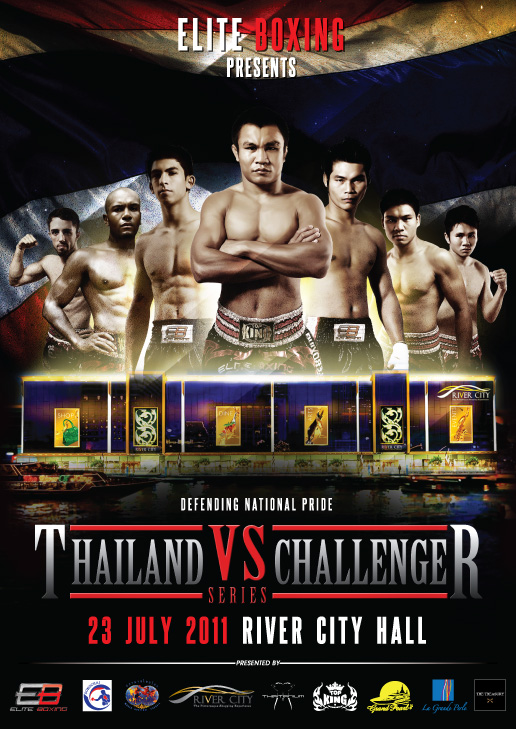 Bangkok-based muaythai promoter Elite Boxing has announced the schedule for the much anticipated second series of Thailand VS Challenger. Featuring a total of five events in both Europe and Asia, TVC (2011) will be launched at a Grand Opening in Bangkok on July 23rd.
Following the success of last year's inaugural TVC Series, which was televised to an estimated 600 million homes in 180 countries around the world, Elite Boxing has now announced the schedule for TVC (2011). The series will kick off with a Grand Opening at the swanky River City Hall in Bangkok. Tickets for this exclusive event will be restricted to 400 VIPs with proceeds going to support charities including the "Muaythai Against Drugs" Foundation headed by the World Muaythai Council (WMC), Honorary Life President, General Pichit Kullavanijaya.
The TVC Grand Opening fight-card will include 6 WMC world-class international fights, featuring such muaythai superstars as Kaoklai Kaennorsing, Nonsai Sor Sanyakorn and Bovy Sor Udomsorn of Thailand taking on Cyrus Washington (USA), Antoine Siangboxing (France) and Valdet Gashi (Germany).

Just a few weeks after the Grand Opening, attention will switch to Sanam Luang where the second event in the TVC Series will once again be a co-promotion with OneSongchai Promotions at the Queen's Cup on August 12th. Following the success of last year's TVC at the Queen's Cup, Elite Boxing will once again incorporate TVC fights into the Queen's Cup as part of the celebrations marking the birthday of HM the Queen of Thailand.
The third installment of TVC (2011) will see the series moving to Germany for Thailand VS Europe at the impressive Carl Benz Arena in Stuttgart on September 17th. This will be the second TVC event in Germany as Elite Boxing hopes to build on the success of last year's Thailand VS Germany event.  It will also be the first TVC event organised by Elite Boxing's recently established subsidiary, Elite Boxing Germany.
The show will be back to Asia in October for Thailand VS Asia. While the event is confirmed, Elite Boxing is still finalising the venue with a number of options still under consideration.
The series will end back in Germany in November with Thailand VS Germany at the Blautal Centre in the southern German city of Ulm. This will be the second Thailand VS Germany event at this venue following a very successful debut there in the TVC (2010) Series.
For more details about the TVC (2011) Series, please visit the Elite Boxing website and watch the exciting warm up trailer !!!
Tags: Competition, Germany, Muaythai Against Drugs, Queens Cup, Thailand, WMC