TopKing World Series: Belarus Winners
TopKing World Series held a highly successful event this past weekend in Belarus which featured the first eight fighters of their 16-man tournament.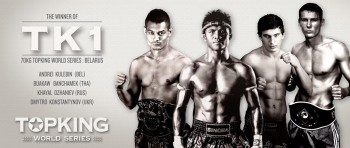 WMC and IFMA superstar Buakaw Banchamek, multiple IFMA World champion Andrei Kulebin,  Dmytro Konstantynov, and Khayal Dzhaniev were the four fighters that will advance in the tournament after having won their respective bouts by unanimous decision.
After this first leg in Belarus, the tournament will travel to France next to feature the second group of eight fighters in the tournament. The four winners from the France event will then face off with these four in China, with the winners of that round finally meeting in Thailand for the grand finale.
Photo credit: TopKing World Series
Tags: Belarus, Buakaw, Topking World Series