WMC I-1 World Muaythai Grand Extreme to Thunder in Hong Kong
On 2 November 2015 the Hong Kong International Trade & Exhibition Center (Star Hall) will host the I-1 World Muaythai Grand Extreme 2015 which is held in cooperation with the World Muaythai Council under the sanctioning of the Hong Kong Muaythai Association.
Hong Kong and its love for martial arts as the main city for so many famous martial art movies will come alive again when the WMC event series will be again filling every seat and the Hong Kong International Trade & Exhibition Center.
The 2 main matches of the night are going to be the WMC I-1 CHAMPIONSHIP TITLE  competed in Super-4 format in two weight divisions in 72kg and 57kg category.
The middle weight super 4 contenders are:
Mardsua Tum (Thailand), winner of the reality show "Challenger" and 3-time I-1 World Champion; former WMC world champion
Giorgos Kostanov (Cyprus), current U.S.M.T.A Champion of Cyprus;
Eddie Vendetta (Colombia), a.k.a. "Colombian Warrior", Champion of Colombia, South Thailand Stadium champion
Carlo Doinjashvili (Goergia), a.k.a. "Beko", current Champion of Georgia and Caucasus.
The 4 champions competing for the 57 kg Super-4 are:
Ali Yaakub (Malaysia), former I-1 Super-4 International Champion, 5-time Champion of Malaysia, and Z-1 International Champion; multiple IFMA Champion
Arnon Setthanwa (Thailand), a.k.a. "Jack the Ripper", Thailand National Champion; top ranked WMC fighter
Ncedo Gomba (South Africa), South African muaythai champion and
Alexi Serepisos (New Zealand), 2-time North Island Champion and Current TBA Champion.
The undercard will see all the local talents making a name for themselves and trying to get in the ranking of HKMTA to participate in upcoming Asian Beach Games and Asian Indoor Martial Arts Games.
Ricky Fei Long (Hong Kong)
vs
Xavier Tam (Hong Kong)
Wong Kwok-Yin Cookie (Hong Kong)
vs
Kwok Hoi-Ling (Hong Kong),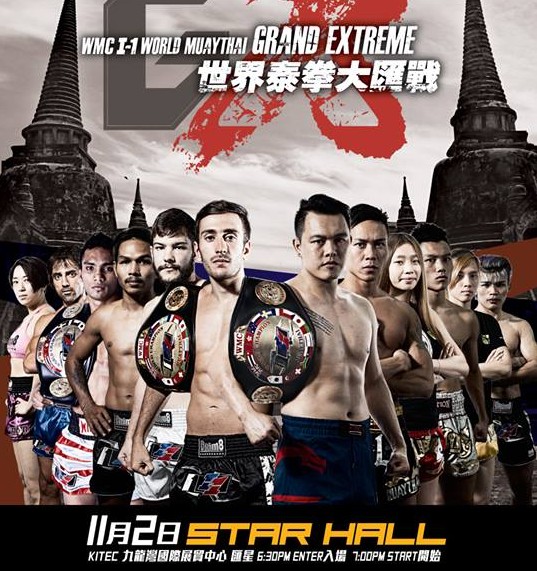 More international exciting bouts will be contested between:
Chak Kam-Ho (Hong Kong), Former Hong Kong Champion
vs
Theo Giannopoulos (Greece), XFS World Champion

Pavlos Kaponis (Greece), aka "Diamond", 4-time Greek Champion and IMC World Champion
vs
Singbrid Ka Bee (Thailand), Former Nakhon Ratchasima Champion, Winner of Hero Legends Championship

Special thank you to promoter Kim Yip and the Hong Kong Muaythai Association for another world class muaythai event in one of the most dynamic cities in the world Hong Kong.