Elite Fight Night Champions League
Bangkok's Asiatique is set to host the opening show for 2016 for the Elite Fight Night Champions League series of four man tournaments. With 4 shows set for around the World with the Winner of each tournament set toe earn their place in the Grand Finale tournament to be held in Bangkok on the Kings Birthday.
The opening show, EFN Bangkok is being held at Asiatique in Bangkok on the 12th of August, the Queen of Thailand's Birthday and features a strong line up to get the season underway.
Representing Thailand is Petmankong Gaiyanghaadao a former Thailand, Channel 7 and multiple tournament Champion. Representing Uzbekistan is Mansurbek Tolipov. The contender from Ukraine is Moisa Oleksandr and the final four-man contestant is Casey Parlett from the USA.
The prize for the winner of each tournament is 150,000 baht with 70,000 baht for the runner up.
After the Bangkok show the next stop is Sofia, Bulgaria for EFN Europe on the 24th of September, followed by EFN Malaysia in Kuala Lumpur on the 8th of October and the last of the initial qualifying EFN Champions league tournaments is to be held in Sao Paulo, Brazil on the 5th of November. The Final tournament is to be held in Bangkok on the 5th of December.
All the EFN tournaments can be found here on www.eliteboxing.tv/efn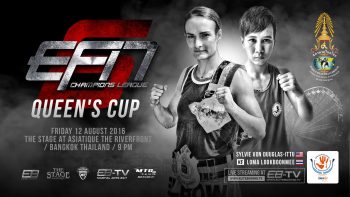 Alongside the 4 man EFN Champions League 1 tournament set for the Asiatique on the 12th of August there is a mouth watering Female match up, between Sylvie von Duuglas-Ittu of the USA and local hero Loma Lookboonmee. Both fighters have matched up a huge amount of fights in their careers already with Loma having well over a hundred fights already, having represented Thailand multiple times in the Amateur team taking Gold almost every time, as well as a long and distinguished pro career and Sylvie having a long career in Thailand, having amassed close to 150 professional fights.
This will be the fourth fight between them with Loma having 3 wins so far, but Sylvie is coming into the fight, sensing that each time she is getting closer to the win, against a fighter she has a huge amount of respect for as an opponent, but is determined to finally get the win against. Loma has a sharp technical style with almost perfect timing and control of the clinch, Sylvie a more aggressive clinch and knee style, which should make for another close, thrilling fight between them
by Rob Cox