WMC West India Title Belt & Ranking Series 11 : Indore 2023
The WMC West India Title Belt and Ranking Series 11 was one of a kind pro-muay Thai event in India. It was a perfect blend of a Thai Culture and professional Muay Thai held at Indore Public School, Main Campus on the 5th Feb 2023. 
The perfect venue was chosen by the administration for the West India Title Belt and Ranking Series 11. The Venue is approx 20000 sq. ft area with provisions for multiple rings, one mega ceremonial stage, a grand jury podium, a specially designed VIP sitting area, and a prize distribution podium along with a seating capacity of 1000+ audience.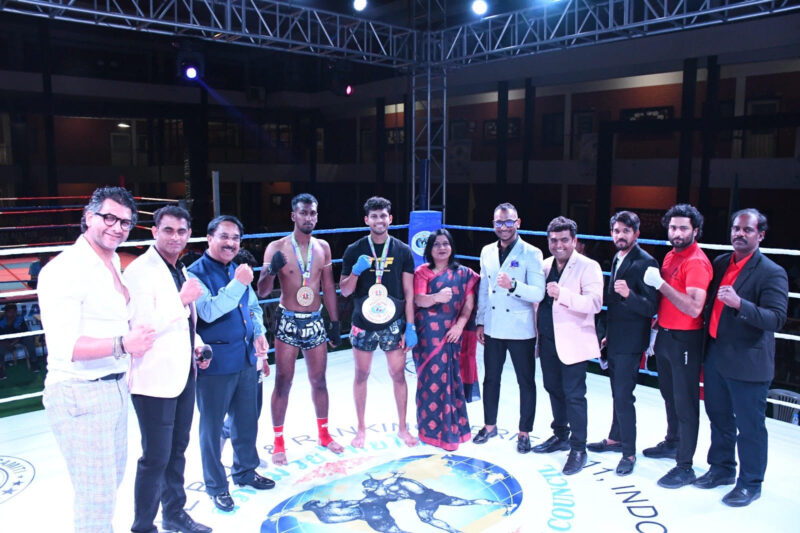 The WMC West India Title Belt opening ceremony was held on the 4th of Feb by the Founder and President of Indore Public school and IPS academy, Principal of Indore Public School, Bollywood Actor, Brand Ambassador of MP Muay Thai Association & WMC India Director Ali Hassan Toolavi, Film Producer Vikram Kapoor, WMC India Head Promoter & Country Representative Balkrishna Shetty, Administrative Director Ashutosh Daddich, Technical Director I M Naveed, other National WMC segment heads & other eminent dignitaries and all officials of WMC. A splendid face-off and media event was organised to mark the start of the event on the night of the 4th.
The total number of states that had their representative fighters in WMC West India Title Belt and Ranking Series 11 was 15 and the total number of fighters in Division A(Pro – Main Card & Undercard) & Division B(Pro – Am Ranking Series) were 50+ from these states. There were 15 Pro-am fights in WMC India Ranking Series 11 and 8 pro bouts on the Undercard. The Main Card consisted of 2 Co-Main events and the Main event of the evening was the WMC West India Title Belt fight.
The Co-Main events were fiery. West Bengal took a lead step by giving two Co-Main event fighters in both bouts against seasoned professional contenders from Maharashtra and Madhya Pradesh respectively. The first Co-Main Event took place between Sk. Shoaib Ali of Supremacy India Muay Thai from WB and Animish of TCF Mumbai representing Maharashtra and the second, high adrenalin bout went on between Shivam Chowrasia, the fighter of the year 2022 from MP against Rahul Mondal, a relatively new professional Muay Thai contender of Supremacy India from WB. But, both the bouts were lit and went the distance. In both the Co-Main event fights, none of the fighters gave any quarter to either of their opponents and went head to head, toe to toe with full power and grit, thus putting on an enormous show for the audience live at the venue and digitally through the Lockerroom on channel Sk. Shoaib Ali went on to win the first Co-Main event bout against Animesh and Shivam Chowrasia won against Rahul Mondal, both fighters winning unanimously, thus creating ripples of hope and placing themselves as contenders for the next title belt events.
The main event, the West India title belt was held at about 7pm in presence of the MP Olympic Association President & MP MLA(Vidhayak) Shri Rameshji Mendola and Padmashree Dr Purushotam Dadhich. The bout was between fighters from Maharashtra & Telengana representing their gyms Total Combat Fitness and Star Muay Thai & MMA. It was a glorious technical fight between Mehul Singh from TCF and Aamer Ali from STAR MT&MMA. The fight went the distance and after 5 rounds of an intensive technical clash, Mehul Singh of Maharashtra representing TCF took home the West India Title Belt gracefully. The Belt was handed over to Mehul by the Founder and President of Indore Public School Mr. Anchal K. Chowdhary in the presence of a cheering crowd.
WMC India and all other state promoters and officials worked in absolute coordination to make the event a grand success. Apart from that, many volunteers from the local Muay Thai Association and adjoining districts were also there to help out any participants facing any issues at the venue. Everything about the event was picture-perfect. The 5th of February marked a different dawn for the advent and upgradation of Indian Pro Muay Thai. Finally, with the team prizes and photo sessions the event came to an end on the night of 5th Feb. with an overwhelmingly positive response from all quarters.